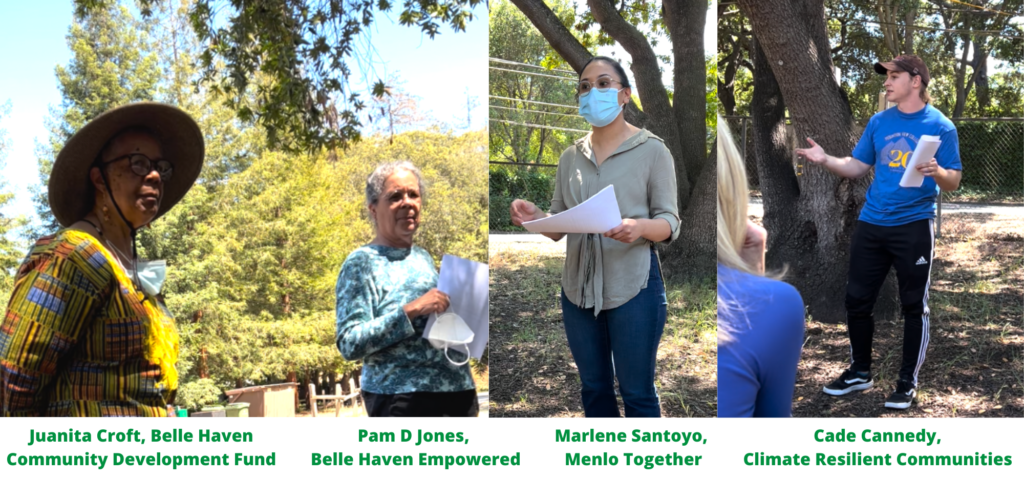 We had our first in-person General Meeting, at Flood Park. It was great to spend the time on a beautiful day, hearing about important housing, transportation, and environmental justice challenges in the context of our local history. 
We heard from decades long Belle Haven residents and community leaders, Juanita Croft and Pam Jones, who shared their first-hand experience with, and analysis of, our local history and the legacy of residential segregation and environmental injustice.
We also heard from Cade Cannedy of Climate Resilient Communities and Marlene Santoyo of Menlo Together and Menlo Spark, about environmental justice and how we achieve it.
Folks were very interested in discussing the Housing Element and Environmental Justice Element process which is ongoing in our city right now, as well as ways to support new affordable housing at the former Flood School Site and the SRI Site Parkline Project.
Engage with us and our partners!
Environmental Justice & Safety Element
Housing Element – Use Your Voice to Advocate for Equity:
Learn more about the original inhabitants of Menlo Park, the Ramaytush Ohlone