On November 17, 2019, over 100 people crowded into the Arrillaga Family Recreation Center for the Color of Law: Menlo Park Edition. Co-sponsors for the event included Community Equity Collaborative, Community Legal Services in East Palo Alto, Housing Leadership Council, League of Women Voters of South San Mateo, Menlo Park Historical Association, Menlo Spark, NAACP San Mateo County, Nuestra Casa, Palo Alto Forward, Palo Alto Housing, Peninsula for Everyone, and Tech Equity Collaborative.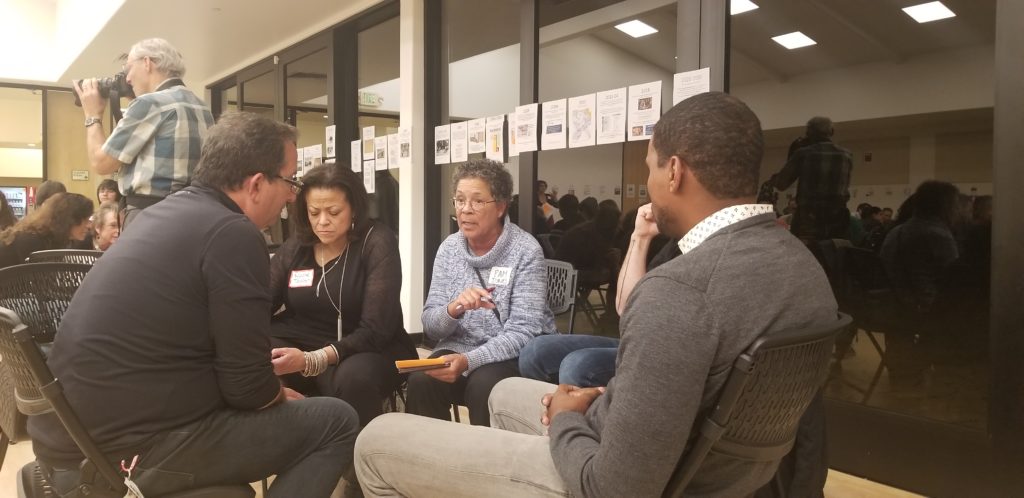 A small team of commuity members transformed the Arrillaga Recreation Center into a gallery which documented the history of racial segregation in Menlo Park. They created a timeline using city documents, court documents, news clippings, photos, and maps and posted it around the room. Attendees discussed the timeline in small groups, sharing a mix of shock and sadness at the policies and practices which divided Menlo Park. Learning about this history instilled a sense of responsibility and determination to demand more housing in our neighborhoods for a more inclusive and equitable community.
Kenia Najar, Program Director at Youth United for Community Action, made the point that history is being repeated in Belle Haven today. She explained that the block-busting to make the community a segregated Black neighborhood that took place in the 1960s is replaced today by rapid gentrification and displacement of long term Black and Latino residents to far off communities from where they often commute back here to work.

In the mid 20th century Black families were barred from buying homes in Menlo Park and other white suburbs through racial covenants that restricted the purchase of homes by people of color. Redlining also restricted who could secure home loans. Later, real estate agents used discriminatory real estate tactics like "block-busting" to scare white residents into selling their homes at a discount. Meanwhile, Black people in San Francisco and Oakland were encouraged to move in so that real estate agents could make a profit from buying at panic sales prices from white families and selling at inflated prices to Black families. With the economic boom since 2009, many Belle Haven families have been displaced by newcomers more equipped to pay rising market prices and rents.

Jen Wolosin of Menlo Together said that "We can no longer pretend that [we don't know] what happened and how our community is shaped is the way it is and that we…have the responsibility now to go forward to do something about it. In the past the housing element put all the affordable housing in the Belle Haven area. This conversation has laid a foundation for all of us to start thinking about letting more people into our neighborhoods."

Karen Grove, in closing the event, told attendees "If we as a community accept our responsibility to compensate for the isolating patterns that shaped us, our neighborhoods and our city will become stronger! Time and again in our history, we've seen that when we act to improve racial equity, all people's lives are improved."

View the gallery walk and sign the "More Homes Downtown" petition to support more affordable homes in Downtown Menlo Park. For more resources and next steps, visit our resources page.

We would like to recognize our elected and appointed officials who attended this important event, including Menlo Park Mayor Ray Mueller, Menlo Park Mayor Pro Tempore Cecilia Taylor, Menlo Park Council Member Betsy Nash, Menlo Park Council Member Drew Combs, and Menlo Park Planning Commissioner Michele Tate.