Join Menlo Park Neighbors for Affordable Homes and the Ravenswood City School District Community – teachers, staff, parents and neighbors, this Sunday August 28th, 3-4:30pm at Belle Haven School. You are invited!
This November, Menlo Park neighbors will vote on a local ballot measure designed to stop the Ravenswood City School District from creating affordable homes for teachers and staff at its Flood School site. The measure would also block future homes from being created for your neighbors throughout Menlo Park. YOU can stop this! Learn more about the measure here.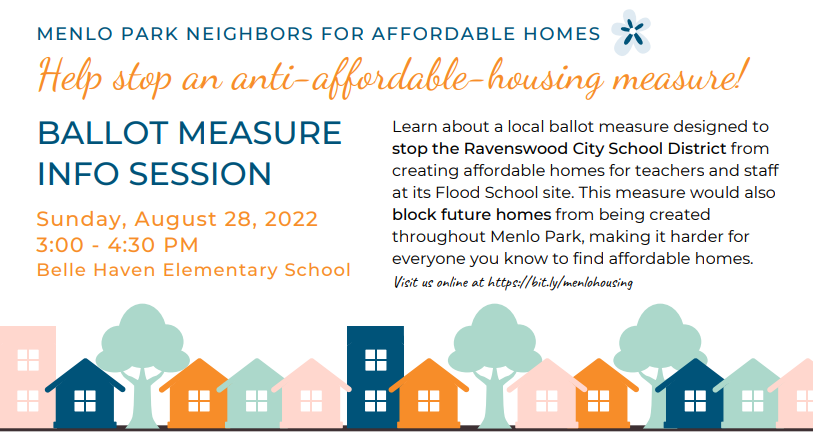 You'll hear from Ravenswood district teachers, staff, and community members and learn how YOU can champion affordable homes by helping defeat the measure.
Staff housing for school districts can make a huge difference, not just in the lives of the teachers and other employees that serve our children, but for the entire community. This Associated Press video includes interviews with new residents of faculty housing completed this year in Daly City, very similar to what is being proposed in Menlo Park.
[1] The measure would require a regular-election vote of the public before changing zoning of low-density residential parcels, which include the vacant site of the former Flood School and several church parking lots where affordable housing could be created.