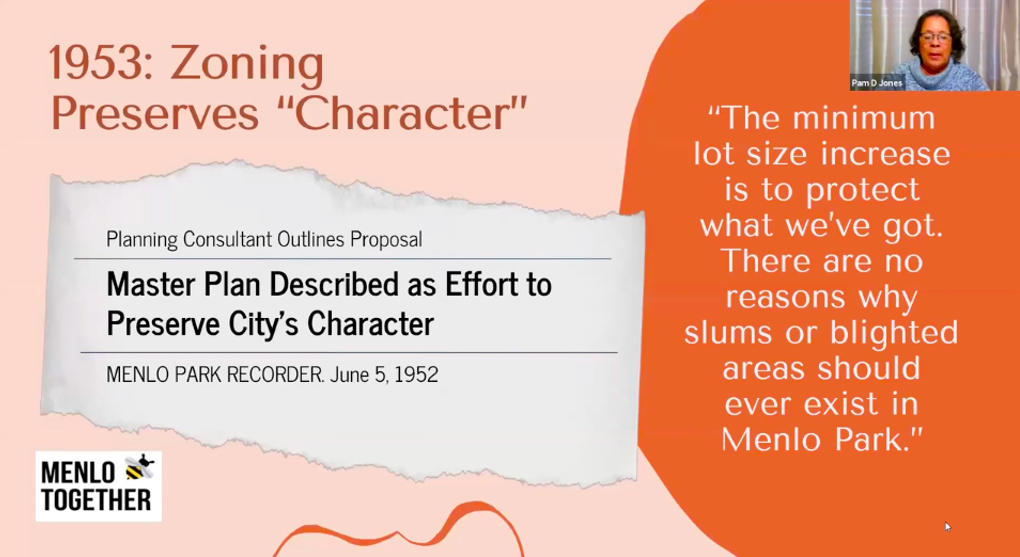 Covid-19 and the deaths of Breonna Taylor, Ahmaud Arbery, George Floyd, and the countless other Black people killed by U.S. police have once again exposed the ongoing impact of America's long history — and present-day patterns — of racist policies and actions. These events have inspired many Menlo Park residents to learn the truth — however uncomfortable — about our city's past, and to build a more equitable future for all. Menlo Together's The Color of Law: Local Edition workshops have met the moment by helping local residents face our history with honesty and by offering specific opportunities to act.
Before the racial reckoning of 2020, Richard Rothstein's book, The Color of Law: A Forgotten History of How our Government Segregated America inspired Menlo Together to learn more about how residential segregation played out in Menlo Park. The Color of Law: Menlo Park Edition was the result of a deep dive into our local library archives. Over a hundred local residents attended this in-person workshop in 2019. In 2020, Menlo Together brought the experience to Zoom starting with Housing Leadership Council's Housing Leadership Day and the Menlo Park City School District Speaker Series, followed by events for the Ladera DEI (Diversity, Equity and Inclusion) Committee and the San Mateo Housing Department. In total, Menlo Together's The Color of Law: Menlo Park Edition workshops have reached almost 350 residents, with more workshops on the way.
What is the draw?
For many, the workshop's power is in its local specificity. "It was about Menlo Park, where I live," according to one participant. "[In the past,] learning about segregation was not about my home…" For another attendee, the most impactful part of the workshop was learning "the local history, how Belle Haven and East Palo Alto became isolated," and "how certain [white] Menlo Park neighborhoods fled Ravenswood [school district]."
Other participants cited the impact of the personal stories of Menlo Together members Pam D. Jones and Deadra Lampkin, and member emeritus Karen Camacho, who shared how residential segregation has impacted their families. These stories made real what might have been abstract concepts before the workshop; for one participant, they "made the book come alive."
Combined with these stories, Menlo Together's use of the interactive tools available in Zoom made the workshop feel intimate, even with a large number of participants on an online platform. One attendee "liked most of all how everyone was encouraged to participate," and appreciated "how anxieties about doing so were well addressed" and another "was … thrilled to find so many folks nearby who are passionate about this."
A call to action
The Color of Law: Menlo Park Edition is not just a history lesson, it is a call to action. "I really appreciated the ways in which the workshop provided opportunities for engagement by the participants," one participant noted. Even "more eye opening was the more recent ways in which discrimination continues to impact people of color's access to housing or pushes them out of their neighborhoods when there is gentrification and displacement."
How can you engage?