This evening, June 20 starting at 6pm, Menlo Park will hold its first study session with the City Council and Planning Commission introducing the Environmental Justice/Safety Element and previewing its process toward refining the documents and making decisions. The agenda for the meeting is here.
Why is tonight's meeting so important?
For the first time, Menlo Park is preparing this Environmental Justice Element of the City's General Plan with the aim to create policies and programs that address long-standing inequities in our city. At the same time, they will update its Safety Element to reduce existing and future hazards due to the impacts of climate change.
Climate Resilient Communities, with the help of many community groups including Belle Haven Empowered and Menlo Together, worked for over 15 months to survey Belle Haven residents and determine a key list of recommendations for this plan.
What can you do to support our community members?
Right after the City Council introduces their Environmental Justice/Safety Element during the council meeting, we urge you to deliver a public comment to the city council (virtually or in-person) about what you want to see happen in our city to make it more equitable and sustainable.
If you or someone you know would prefer to deliver this comment in Spanish, they must go to the Belle Haven Library and deliver their comment there; there will be translation services available at the library.
Learning more – last week's Community Gathering
Last Friday, Menlo Together held a Community Gathering to provide background about the history of environmental injustice in Menlo Park, the engagement over the last 15 months to gather feedback and recommendations from impacted community members in Belle Haven, and the process for the city to complete the EJ element
To learn more, check out the presentation and Zoom recording from last Friday's gathering
Some talking points you can draw on
Listen to Belle Haven residents – amplify the voice of the community impacted by environmental injustice
Support the key priorities identified by the community. These include: protecting renters, growing the tree canopy, investing in infrastructure to facilitate safe walking and bicycling, and protecting residents from heat and sea level rise
Encourage the City to set timelines and follow through, including funding for implementation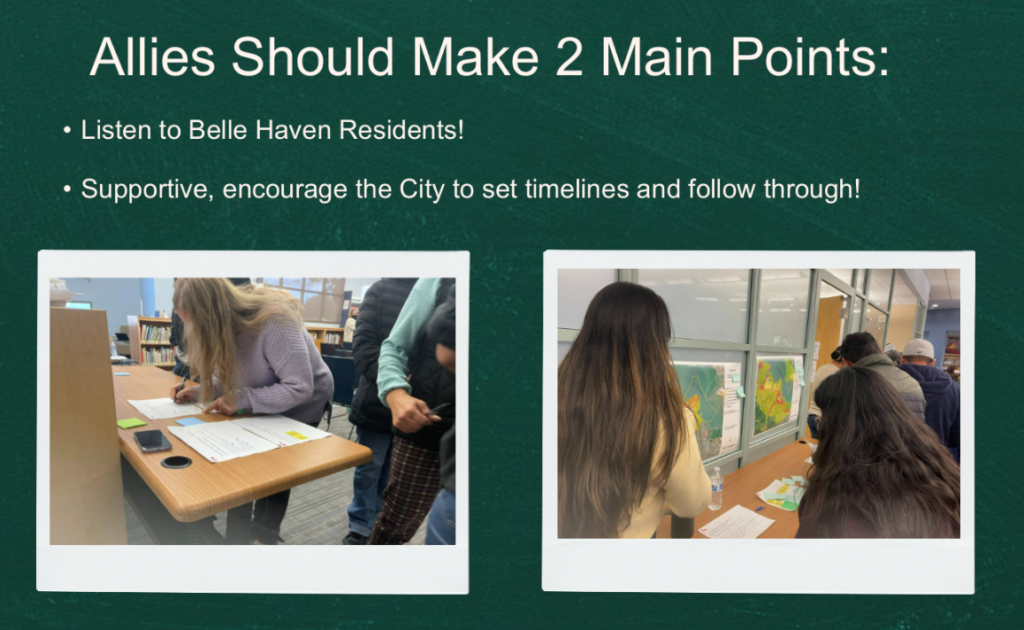 ________________________________________
If you cannot attend the meeting, email your public comment by 4pm today to city.council@menlopark.gov
To attend the meeting virtually:
Zoom.us/join – Meeting ID 890 3919 2702
Access the meeting real-time via telephone at:
(669) 900-6833 Meeting ID 890 3919 2702
Press *9 to raise hand to speak
Now is the time for action because together, we can make meaningful change to help our city become more equitable and sustainable!