On Thursday, January 12, at 7pm, Menlo Park's Planning and Housing Commissions will meet together to review the draft Housing Element before sending their recommendations to City Council.
Menlo Park's Housing Element is in its final stages–it will likely be adopted by City Council before the end of January. But there are two critical and related pieces of the Housing Element update that deserve attention and consideration. These three elements of the city's General Plan are bound together by their goals for a more just and equitable community, and to achieve those goals, they need to be considered collectively.
A draft Environmental Justice and Safety Element have been released and public meetings on these elements will be held in early February, 2023.
A home is the first line of defense from environmental hazards
The Environmental Justice Element in particular is centered on addressing environmental injustices in the General Plan; as such, it plays an equally vital role as the Housing Element in determining the quality of life where people live.
By state mandate, localities must seek input from disadvantaged and marginalized communities to inform the Environmental Justice Element. State law (SB 1000) requires cities to identify and prioritize the needs of communities affected by historic systems of discrimination that disproportionately impose pollution and other health burdens onto low-income residents and people of color.
The Environmental Justice Element is a tool to address a variety of past harms related to environmental inequities. One of the seven goals is to promote safe, stable, and affordable housing in high resource areas. The Environmental Justice Element references Housing Element programs to achieve these goals, so it's imperative that we have a strong and equitable Housing Element.
Historic patterns of housing discrimination form a throughline between the HE and the EJE.
Redlining and discriminatory mortgage lending practices were used to isolate low-income and non-white populations to the least desirable locations.
Here in Menlo Park, the Belle Haven and Bayfront neighborhoods are overrepresented by lower incomes and people of color. They are also the most polluted, flood prone, and industrialized areas of the city. By their location as well as their history of being under-resourced, they find themselves particularly vulnerable to the effects of climate change. They're also the most cost-burdened when it comes to housing.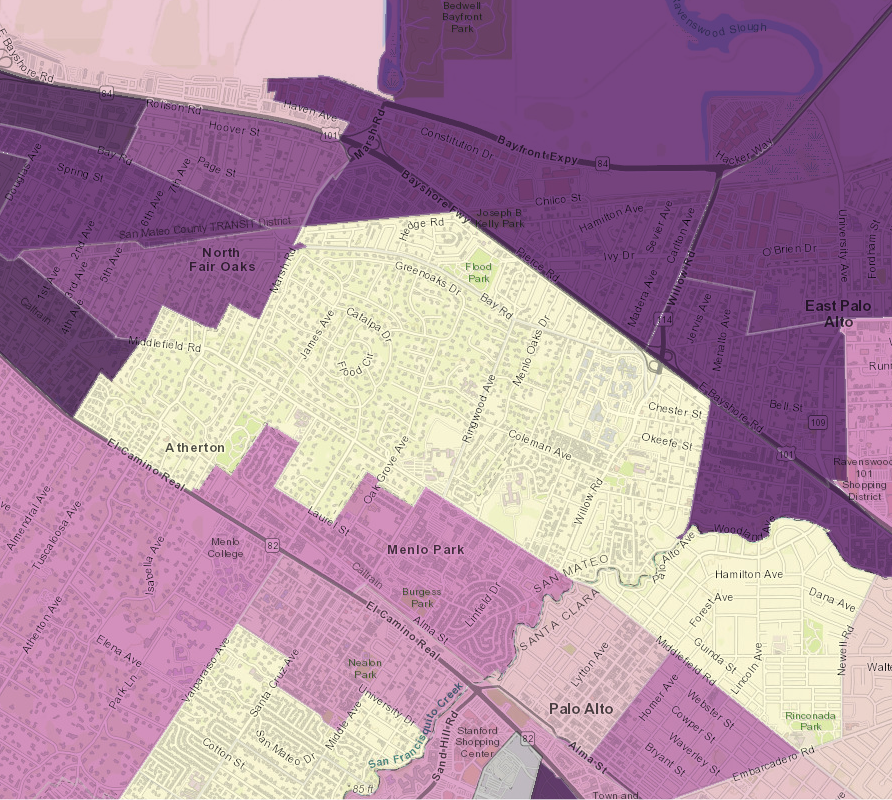 Housing Burden Indicator Results: In Belle Haven, 28% of residents contribute greater than 50% of their income to housing cost and over 70% of households are low income (EnviroScreen 4.0, 2013-2017).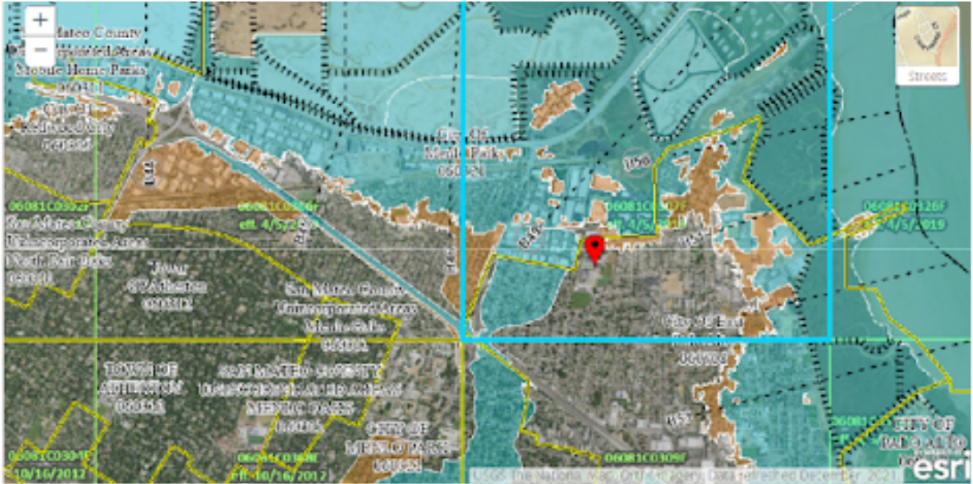 Menlo Park's Belle Haven neighborhood sits in the FEMA flood plain (2022 map)
Zoning and permitting decisions have restricted the location and type of housing developments in Menlo Park, which has led to a severe local jobs/housing imbalance and a lack of affordable housing options. As land values continue to rise, home prices and rents have become increasingly out of reach and contributed to gentrification. Housing insecurity and displacement loom, exacerbating stress on residents' everyday finances–and their health.
As part of the Environmental Justice and Safety Element planning process, Menlo Park did extensive outreach to the Belle Haven community about environmental harms, health challenges, and financial stressors. Chief among the community's priorities was the need for safe, stable, and healthy housing.
Safe & Sanitary Housing State Requirement: Location, Quality, Affordability, Stability
Housing site selection can exacerbate or mitigate inequities. To reverse our past patterns of segregation, we must equitably plan for a diversity of housing across the city, especially in high resource areas.
To address housing insecurity and reduce cost burdens we need robust policies and programs to preserve and protect existing housing as well as enact strong measures to prevent displacement.
The EJ element depends on the Housing Element to achieve safe and sanitary housing outcomes. To achieve the Environmental Justice goals, the Housing Element needs to be robust and equitable.
---
Timely Call to Action – January 12th
Support Environmental Justice Goals through Housing Element Advocacy
A Housing Element that supports Environmental Justice will establish programs and policies to:
Reverse the trend by which marginalized communities have been overburdened with disproportionate housing and commercial development and the resulting traffic and emissions impacts
Create a robust, accelerated plan to produce 100% affordable housing on city-owned parking lots downtown
Offer protection from displacement for both renters and homeowners
Provide resources to help preserve and revitalize communities
Thursday, January 12th at 7pm, the Planning Commission and Housing Commission will discuss the Housing Element.
Take action now:
Before 7pm on Jan 11th, please sign on to this Menlo Together/Housing Leadership Council letter in support of a rigorous and equitable Housing Element
Lend your voice even more powerfully: Speak directly to your Planning and Housing Commissioners at tomorrow's joint meeting.
Here's all the relevant meeting information you'll need:
When: January 12, 2023 at 7:00 pm
In Person: City Council Chambers, 751 Laurel St., 94025
Online Via Zoom: Meeting ID 862-5880-9056
Phone:
Dial 669-900-6833
Meeting ID 862-5880-9056
Press *9 to raise hand to speak
If you have any questions info@menlotogether.org or kchan@hlcsmc.org will be happy to help.